When
July 24 ~ Dec 31, 2019
What
VISTART 

KRW 285,000 ~ 
Vista Deluxe Room + Access to VIVID HOUR + Buffet Breakfast at The Buffet + VISTA X CORKCICLE Canteen
VIVID HOUR
It's an entirely new lounge service concept, allowing you to take in the stunning views of the Han River and city center from our premium social lounge Re:BAR, starting at 3:00 pm, right after you have checked into your room. Enjoy a collection of wine chosen by our Re:BAR bartenders and food & desserts prepared by our hotel chefs during VIVID HOUR.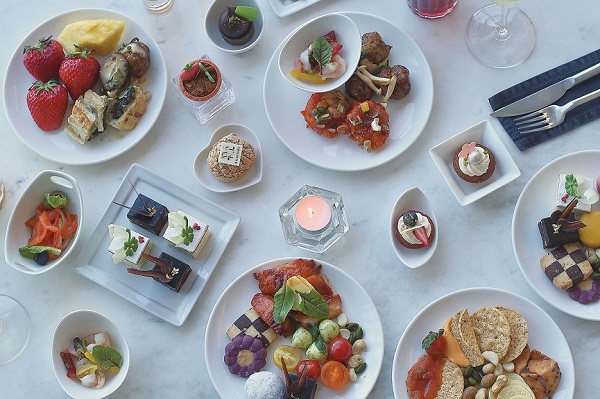 Location: Re:BAR
Operation Hour: 15:30 ~ 18:00
VISTART
Presenting the latest art trends, VISTART is a special exhibition that delivers creative travel experiences through a partnership between Vista Walkerhill Seoul and Korea's top, design magazine, "Design."
Guests get to appreciate seven new artist exhibitions that are based on the inspiration received from VISTA, a representative Korean artist .
※ VISTART Exhibition Period: Year round / New Artist Exhibition: July 16 ~ October 31, 2019
"Drink design" CORKCICLE
BYE, BYE PLASTIC BOTTLES. The stylish design of the VISTART Canteen insulates your beverage in addition to being stunningly beautiful.
The product of a collaboration between Corkicle and VISTA, it maximizes the enjoyment of drinking and ensures every sip is just the right temperature.
Now you can take along your VISTART Corkcicle Drinkware canteen wherever you go.
For 2 persons, tax and service charge excluded
Price may change depending on room occupancy
VIVID HOUR: 1 time per stay
Black Out Date: Every Saturday & Sunday / Re:Bar Hosted Event / Liberation Day
Benefits
- Complimentary use of wired/wireless internet service inside a room
- 10% discount for dinning at Walkerhill restaurants
- 40% discount for using Walkerhill Kids Club
- Complimentary use of Fitness and Indoor Swimming Pool in Wellness Club (the age limit for entering Fitness is 16 years and above)
- Admission to the signature botanic garden 'SKYARD'